The Visible Glory of God (Ex. 34:29, Isa. 60:1, Acts 7:54-55, Mk 9:2) has appeared out of thin air on literally thousands of people who have visited the "The Coming King® Sculpture Prayer Garden" in Kerrville. Since 2005, the "Glory Dust" has formed on the skin, clothes, and Bibles of thousands of Garden visitors. The strange particles have also been witnessed around the cross as a swirling Glory Cloud (1 Kings 8:10).
The sparkling substance, which looks like fine glitter, has been examined by Texas A&M University. They determined it is not gold or any known element in the universe. It is a new substance which appears on the hands, faces, clothing and Bibles of those seeking God.
This "last days" amazing phenomenon is happening all over the world, to Christians of all denominations. Many Christians have observed the sparkling substance on themselves, or nearby, thinking somehow they accidentally encountered glitter. Many other Christians are totally unaware that the substance is on them, until curious observers point it out. The sparkles also form on non-believers, as a means to introduce them to the Gospel of Jesus Christ.
The particles are usually golden, but also come in several colors including silver, red, blue and green. They are similar in appearance to fine glitter, or glitter make-up. They range in size from very tiny dust particles, to flakes 3/32" in size, and actually materialize "out of thin air."
It is best seen in very bright sunlight and while it looks similar to tiny sweat beads it is present with or without sweat on the hands and endures over time. It appears on clothes, faces, hands, anywhere.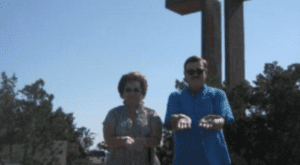 Mr. and Mrs. Barefoot from Boerne, TX got touched with the Visible Glory.